Sometimes, a lot of mountain bikers need to get motivated especially when you are a beginner rider, and a great way to really get inspired and motivated is through mountain biking movies.
In addition, mountain biking movies will not only help you get motivated but also get you excited, learning new riding techniques, and even make you cry. It all depends on the movie you watch.
The following list are the top 13 mountain bike movies in the world today
1 No Way Hans Rey
2 Shift
3 RJ Ripper
4 Vicious Circle
5 Flow tonic
6 Chainspotting
7 Ride the Divide
8 Klunkerz
9 Where the Trail Ends
10 Earthed 3 – Europe
11 Fundamentals Mountain BikeTechnique
12 Roam
13 Rad Company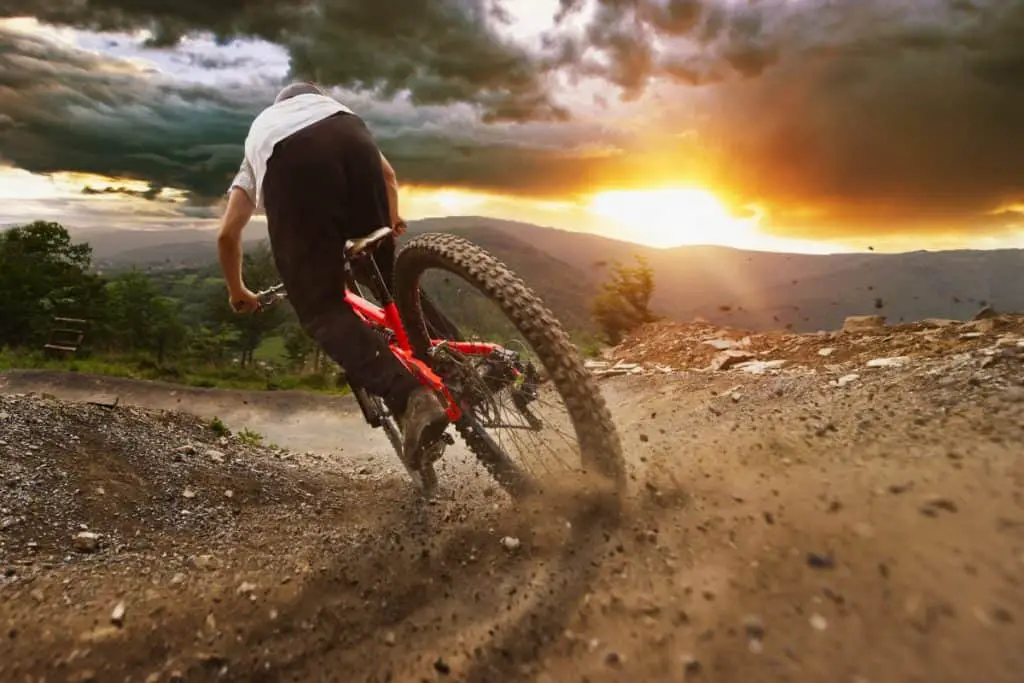 No Way Hans Rey
no way Hans Rey is the movie that impressed me the most and left me in shock.
no way Hans Rey talks about Hans Rey's story, how he kept all his development and progress as a rider who started out in a young boy and later became one of the best-known mountain bikers.
For those that don't know, Hans Rey is among the biggest names in the world of mountain biking, just like Gary Fischer. This movie also includes more stories and interviews of other great riders that talk about their success and fame in the mountain bike world.
In my opinion, no way Hans Rey is the perfect movie for anyone rider who wants to be inspired by some of the greatest cyclists in the world and I would even recommend it to anyone who wants to be a professional mountain biker and wants to get tips out of Hans Rey's way.
Shift
SHIFT is a documentary movie about the kids from Carcross who do everything to make the traditional trails in their city a world-class cycling route, which takes a decade.
SHIFT has won so many awards over the years. The most prestigious award he received was the best film in culture at the New Zealand Mountain Film Festival 2017.
The thing that is most impressive to me about this movie is how the kids are determined to reach their goal which can be a great movie for young riders who are in an environment where there are no professional bike lanes.
What's more about the movie is that it is only 28 minutes long, not an entire movie which I personally don't prefer due to not having the time to watch long movies.
RJ Ripper
RJ Ripper is one of the most amazing movies you are ever going to see in your life and not just only a mountain bike movie.
The movie RJ Ripper talks about RJ's dream growing up in the small town of Kathmandu where there was no means for RJ to reach a world-class mountain bike rider which leads him to go through a difficult and arduous journey to fulfill his dreams. But he eventually won the four-time National champion at 21.
RJ Ripper is not only an amazing and fascinating movie to watch, but it is also an excellent educational film that can teach children and even adults what they will need to do to fulfill their dreams through RJ's story.
Vicious Circle
Vicious Circle is the coolest and most fun movie to see on the list. If you love adventure riding and action, this is the perfect movie for you.
Vicious Circle filmed in some of the most beautiful places, such as Costa Rica, Arizona, California, Canada and Hawaii, and featured among the best cyclists and athletes in the world like Graham Azziz and Yasel Kot.
At Vicious Circle, you won't find even one scene without action and the movie itself is 40 minutes long, so it's a relatively short film.
Flow Tonic
Flow-tonic is the best movie for riders that want to improve their mountain biking technique.
In fact, Flow-tonic is delivered by the excellent veteran trainer, Simone Lawton, who teaches amazingly how to work more correctly, the legwork, how to use the brakes correctly and lots of other basics and techniques that every mountain biker must know how to do.
This is a tutorial and not a mountain bike that incorporates action, so I would recommend Flow-tonic only to riders who really want to improve their riding skills and I can assure you that after watching this movie, you will significantly improve your riding skills.
In addition, it is very important that you know that the film can fit all levels of riders from professionals to beginners, so I personally think this is a must-see movie for every rider.
Chainspotting
Chainspotting is one of the best mountain bike movies you can get today, even though it came out in 1997, it is still considered one of the best mountain bike movies in the world.
Chainspotting is considered a very revolutionary movie because it is very diverse in one scene. What makes this movie special is that while it motivates you to go riding, it also makes you laugh.
And if already talking about comedies, be sure that Chainspotting will make you laugh especially because of the very funny actors in it, such as Martin Hoys, Steve Pitt, Will Longden, Hans Rey, Martin Ashtono, and Rob Warner.
One thing I have to mention is that because the movie is a comedy, it has a lot of nudity and non-educational stuff, so the movie is not recommended for young children but only for adults.
Ride the Divide
Ride the Divide is an amazing movie that can perfectly fit any rider who is going to compete in a long and difficult race.
Ride the Divide talks about the hardest mountain race in the world that takes place in the Rockies, which is nearly 3000 miles long and is mainly focused on the experiences and difficulties of major characters.
Ride the Divide has also won a lot of awards and theatricals, making it one of the world's best mountain bikes.
I really like Ride the Divide because it contains all the difficulties and experiences of the riders and at the same time presents lots of humorous and funny pieces that will make you enjoy it.
Klunkerz
Klunkerz is an amazing documentary that shows how this whole thing called mountain biking was born somewhere in the 70s in San Francisco.
The whole purpose of Klunkerz is to convey to you how difficult it was to start the mountain bike industry and its initial development, and throughout the film, there are loads of interviews with very important people in the industry like Gary Fisher, Tom Ritchie, Otis Guy, Joe Breeze and Mike Signiard who are interviewed and provide amazing opinions and facts throughout the film.
But with this, Klunkerz is not a movie to suit anyone. I personally would recommend it only to those who are really interested in mountain bike history and how it all started because this will be a perfect movie for this category of people
Where the Trail Ends
Where the Trail Ends is one of the most inspiring movies I have ever seen in my life and it guarantees you to see loads of amazing landscapes that will motivate you to go out and ride your mountain bike.
For those who never know, Utah was the freest mountain bike terrain in the world, and the whole purpose of Where the Trail Ends is to go and look for bigger and more free rides all over the world while the movie only talks about the experiences of just a few riders.
The most surprising thing is that most of it took a lot of time to travel all over the world to look for new places to ride. It only finished filming the entire film after only 3 years, which only strengthens the work that the film is very invested in.
I personally highly recommend Where the Trail Ends for those who want to see new places to ride with amazing and fascinating landscapes on the way that will give you the motivation to ride.
Earthed 3 – Europa
Earthed 3 – Europa is the third part of Alex Rankin's excellent film series and is a very impressive film showing Europe's riding terrain. Amazingly.
Earthed 3 presents the best riding areas in Europe for Mountain biking and it records the experiences of some of the leading Euro composers such as Nico Wink, David Vasquez, Oscar Siaz, Brett Gardier Pascal and the Lacon brothers who experience Europe together in their mountain bikes.
My favorite thing about this movie is that the riders show very impressive riders performance and are not afraid to cross the boundaries and fears of themselves which gives a lot more action and interest to the movie. Another thing I personally really like is that the film's length is only 50 minutes, so it's not a very short performance and not long in length.
I would recommend Earthed 3 – Europa for those who want to start riding around Europe and export amazing new terrain for riding.
Fundamentals Mountain Bike Technique
Fundamentals is a learning film that will show you all the basic and advanced techniques that every rider must have in order to ride a mountain bike well.
Fundamentals Mountain Bike Technique is an educational film suitable for every rider from advanced riders to beginners; this is a must-see movie for every rider.
During the movie, you will learn all the basic techniques such as Attack Position, Braking, Climbing, Track Position, Rough Sections, The Trackstand, Pressure Control, and End Roll Downs.
I can assure you that after watching Fundamentals Mountain Bike Technique, you will significantly improve the way you ride, and in addition, a tip that you must do is to watch the movie at least 2 to 3 times so that all the information includes your conscious mind.
Roam
Roam is my favorite mountain bike movie of all the movies on the list and I assure you it's going to be among the most fun and funny movies to watch in your entire life.
Roam talks about a bunch of some very advanced and good riders who are discovering and riders in new places. If you're really looking for motivation, be sure Roam will give you that.
The thing that made me love Roam the most is that it is relatively short. The length of Roam viewing is about 44 minutes which makes the movie not boring, and trust me, when you finish this movie, you will want more because it is so fun to watch.
Roam can suit everyone from kids to adults and I highly recommend it to anyone who loves adventure movies and also to those who want to be inspired and motivated.
Rad Compan
Rad Company is a documentary that talks about Brendan Semenuk and for those who don't know, he is one of the best and crazy riders in the world today.
I'm saying crazy because Brendan Semenuk is really one of those. In fact, the whole purpose of the movie is to show the inhuman, dangerous moves and the crazy things Brendan does during the movie. And the most surprising thing is that Brendan has more riders joining him for his crazy stunts.
The team and players that participated with Brendan Semenuk are Graham Agassiz, Graham Agassiz, James Dwarfling, Brendan Fairclough, Yannick Granieri, Thomas Garnon Ryan Howard, and Ryan Howard.
The length of the movie is 62 minutes which is a great watch time and I would recommend Rad Company to anyone who wants to see lots of action and the inhuman stunts that Brendan Semenuk performs in the movie that will make you excited and even hold your breath for a few seconds.
Summary
To sum up, today, we have shown lots of different mountain bike movies, and for every movie you want to look at and watch, you can do that through Amazon.
In addition to every question and response, we are here to answer them, simply tell us in the comments.
Thanks for reading, until next time