Written by Jon Henrick from ATV Guides
Riding in the mountains and hill is one of the biggest obstacles that ATV has because not all models in the market can cope with high hills, so you will definitely need to get a very powerful ATV that can ride with confidence, stability, and comfort on mountains and hill.
Note that every ATV I show you on this list has a different way and style of riding mountains while there are models that can ride on heights and mountains without no blocks like rock, stones, and some cannot.
On this list, I will show you the best ATVs for hill or mountain, so let's get started.
Best ATV for hill climbing
| | |
| --- | --- |
| ATV model | Price |
| Scrambler 500 | $6,199 |
| Yamaha Raptor 700r | $9,199 |
| Bombardier DS 650 X | $6,999 |
| Honda 400ex | $5,499 |
| Suzuki LTZ400 | $5,999 |
| Kawasaki Brute Force 750 | $9,999 – $10,599 |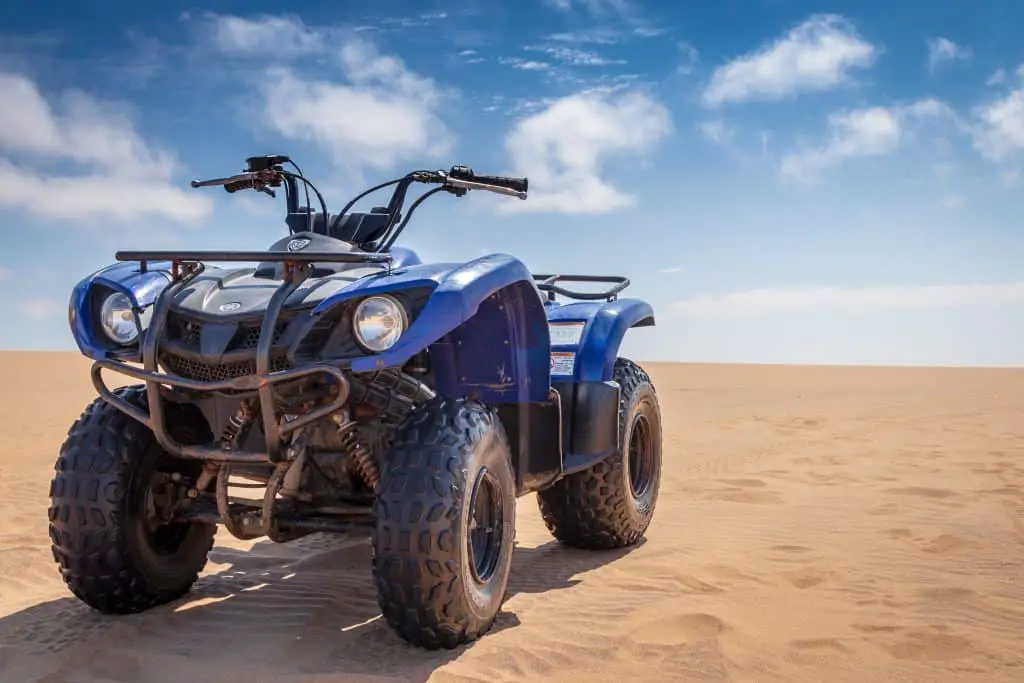 Yamaha Raptor 700r
The Yamaha Raptor 700r is perhaps one of the best and most powerful ATV in the world today and is the most successful model Yamaha has had. Its success has been a crazy one and many people are unaware that the Raptor can climb altitude amazingly while excelling at it.
In my own personal opinion, the raptor 700r is the most powerful ATV in the market and one of the fastest models of all time that is super impressive.
In addition, it is important to note that the Yamaha YFZ series does not really match the capabilities and performance of the Raptor, while simply giving much better torque, engine and performance that if you ask me about mountaineering, the Raptor 700r is by far the best choice for you.
Price
You can buy the Yamaha Raptor 700r for $9,199 which is very expensive; therefore, it is not for all riders and I would definitely recommend the Raptor 700r only for very competitive riders who have the money and need a very powerful ATV for racing.
Why is it suitable for climbing hill?
I think it's pretty clear why the Yamaha Raptor 700r is so good for climbing heights. Maybe the power and speed it provides or whatever you may think but the 2 things listed below make it so good for climbing.
Crazy Speed ​​- The thing I personally love most about the Raptor 700r that I think makes it so good for climbing altitude is the crazy maximum speed that it manages to reach. It manages to reach over 75 MPH, thanks to the excellent type of engine — 686cc, single-cylinder, SOHC four-stroke.
Tires that provide stability – The Raptor 700r tires manage to mow any block they meet on the track and are the super impressive 20-inch size that provides perfect stability when riding.
Opinion
In my opinion, the Yamaha Raptor 700r is definitely a powerful ATV that can provide you a crazy power when climbing mountains while I personally recommend it to only experienced riders who are at a very high level of racing because if you are a beginner, you will have a very hard time riding on it because of its power, so it is important to be aware of your riding level.
Kawasaki Brute Force 750
The Kawasaki Brute Force 750 is the most massive ATV you will ever see in your life while it is important to note that the Kawasaki Brute Force 750 can suit beginner riders and can be perfect for service jobs that require a lot of fieldwork such as farming or even very long riding adventures and not recommended for racing.
In addition, it is important to note that Brute Force 750 is very outstanding when it comes to not only riding through heights and mountains, but also through obstacles because it is very durable and strong and can withstand any obstacle you want it to.  Also, the best thing is that the Brute Force 750 can stay for a good few years even after abuses on the ground. So, if you want a powerful and massive ATV, believe me, Kawasaki Brute Force 750 is the perfect choice for you.
Price
You can buy the Kawasaki Brute Force 750 at a price between $9,999 – $10,599, which is pretty expensive and this is mainly due to the fact that most Kawasaki models are quite expensive and the Brute Force 750 is a very sophisticated and powerful ATV that is considered a lot more prestigious than most models on the list.
In addition, it is important to know your riding style because if you know you are not going to ride in difficult roadblocks, so it is better to ride an ATV that is cheaper and less heavy. I will advise you to choose this ATV if you know that you are going to ride in difficult obstacles and not in easy conditions.
Again, I do not recommend you to buy the Brute Force 750 used as it is used roughly and abusively by most of the owners because, as I said, the Brute Force 750 is designed for riding in very difficult areas and for service work, so it will be difficult to find its used in good condition, and even if you do, don't be surprised that it will be sold cheap.
Why is it suitable for hill climbing?
The Kawasaki Brute Force 750 performs better in hill or mountain riding and can ride on any hill, no matter how difficult it is, be it mud, rocks or stones. It has 3 features that make it so good for riding in heights and mountains which are:
Very durable – What impressed me the most about Brute Force 750 is its exceptional durability against hard failures, and it's mainly because of the double-cradle steel tube configuration and the quality frame and materials that can protect and allow you to traverse any hill without risking the ATV's design.
Exceptional braking system – What I've never seen from other ATVs is a disc type brake system where the most special thing is that when you are in the middle of a hill or mountain that has a sharp slope and you can't climb, you can adjust the armed force down a hill, take your thumb off the throttle so that you can get off slowly and safely from the hill. This is rare; it will prevent your ATV from turning around and risking your life.
Feeling natural when riding – A special feature of the Brute Force 750 is that it feels very comfortable and connected to the area no matter where you ride it. At altitudes or mountains that have the sharpest gradient or rocks and stones when riding, you will not feel this discomfort, thanks to the EPS (Electronic Power Steering) System.
Opinion
In my opinion, the Kawasaki Brute Force 750 is really a powerful ATV for anyone who wants a strong ATV that can cope with any obstacles and I mostly recommended it for service work, adventure or long-distance rides. I also personally recommend you invest in it only if you really need a very good ATV, so it's important to know your ATV riding style.
For any questions you may have or opinion on the article, feel free to write us a comment, and we will get back to you within 24 hours.                                            
                                                Thanks for reading, until the next post