Before riding on your ATV, you need to buy high-quality protective gear that perfectly covers your entire body from your feet to your head because going for ATV riding without wearing protective gear can significantly endanger your life and make you 50 percent more likely to die in case of an accident. So, because of that, you are required to wear protective gear to ensure that you are protected in the safest way you can be as possible.
In addition, protective gear is very important because ATV accidents do not happen frequently, but when they happen, they are always fatal that they likely result into death, and that is exactly another reason why you must invest in quality protective gear and not compromise.
In this guide, I will show you all the protective gear you need to buy before riding on your ATV.
Here is a list of all the safety equipment you must wear while riding on your ATV
| | |
| --- | --- |
| Safety gear | Average price |
| 1. Helmet | $150 to $200 |
| 2. Boots  | $150 to $200 |
| 3. Riding suit (pants and long shirt) | $50 to $200 |
| 4. Gloves | $25 to $100 |
| 5. Protective Goggles | $30 to $150 |
| 6. Body armor | $30 to $150 |
| 7. Neck Protector | $50 to $200 |
| 8. Hearing Protector | $20 to $80 |
| 9. Elbow guards | $20 to $100 |
| 10. Knee guards | $5 to $20 |
The first protective gear you have to wear before riding is obviously a helmet, and in fact, most countries around the world have a law that says you must wear a helmet when riding; otherwise, you will get a big monetary fine. So, it is your responsibility to buy a quality helmet and not risk yourself.
You must simply understand that riding without a helmet is deadly, and if you, unfortunately, have an accident without wearing a helmet, your chance of dying is 100%. The truth is that most people who ride without a helmet and have a head accident eventually die. So, it is super important that you wear a helmet and not just a helmet but a quality helmet that will provide you everything you need.
How to choose a helmet for ATV riding?
There are a few things you need to know before you buy a helmet, and you need to make sure you know all these things so that you can be safe and have the most appropriate helmet in the best possible way.
It is also important to note that all of these things can be for any type of helmet, whether a motorcycle or dirt bike helmet, while you can also definitely take a helmet that is not for ATV, so there is no problem with that.
Design – What I'm sure will be important to you is the helmet design, of course, because if your helmet is beautiful, you will have more desire to wear it and put it on, but the helmet design has another role. It plays the role of protecting your head from the heat, and for darker colors like black and dark blue, they absorb more heat than light-colored helmets. So, I personally recommend that you buy a light-colored helmet while you can, of course, also choose a dark-colored helmet but take into account that it will absorb more heat.
 Material – Nowadays, the variety of helmets made come with all kinds of different materials such as hard plastic, metal, steel, or aluminum, while I personally recommend you buy the material you like most and the material you think you need the most correctly. Know that a helmet is made of a material that can greatly affect its weight, and the more your helmet is made of higher quality material, the more likely it will be heavier but at the same time will protect you better.
Visibility Range – It is important to make sure you have the maximum range of vision with your helmet by ensuring that you can see 100 percent of your vision range. A big helmet may prevent you from having a maximum range of vision. So, it is very important to make sure the helmet is not too big, because it can hinder you from seeing your route and can be very dangerous.
Size and comfort – Another important thing to make sure is that the helmet fits your head so that you can ride comfortably, and believe me, there is nothing more annoying than a helmet that doesn't fit properly to your head. Therefore, it is a must for you to get the most suitable helmet for your head and to know more about this, I encourage you to read this guide. Click here to view.
Ventilation – In my opinion, it is vital to have ventilation developed inside your helmet so that air will flow in and out. This will also prevent you from sweating while riding, and the more ventilation developed in your helmet, the higher the chances that you will sweat less while riding.
Price – The prices of most helmets range from $30 to $200 and even more, so pre-set your budget and decide what is best for you. However, I recommend that you spend most of your money on safety equipment in your helmet more than anything because it is the most important item.
Recommended helmets
Here are some of the best 3 helmets you can find in the market today  
O'Neal SRS Warhawk – The O'Neal helmet is considered one of the most popular helmets and is made of very high-quality polycarbonate material. It is superior to heat in its ABS technology, while also offering very comfortable ventilation and what I like most about it is that it has a very nice and cool design.
ARAI XD-4 – The ARAI XD-4 is by far the best ATV helmet in the world and, in general, in the market and it has no competitors. It certainly offers the best quality while very comfortable, has ventilation and very safe but it is important to note that it is sold for a very high price.
MX-9 Bell – The MX-9 Bell is very special and offers many features that the other helmets like the lotus and loudspeakers have. In addition, its defense system can disperse the blow hit in all directions, which means that the helmet can deal with any damage in case of a crash, and of course, it is of very high quality.
One of the most dangerous mistakes most people make when choosing their safety gear is that they skip boots or they do not buy quality boots, and they think their sneakers or sport shoes are sufficient to make them stand up well enough against the aggressive movements they make while riding and generally in time of danger. The truth is that it's really wrong to wear regular sneakers while riding an ATV; it will not help to protect your feet.
You have to understand that the role of boots is to protect your feet and provide extra support and layer protection to your foot and ankle, prevent your foot from water and cold, and to balance and stabilize you when riding which sneakers can never do very effectively as boots. Therefore, you will have to invest in high quality riding boots, and this could be any type of main boot that is comfortable for you, high enough and able to provide you enough protection for your feet.
How to Choose Boots for ATV Riding?
Comfort – I think the first most important thing about your boots is comfortability. You must be comfortable with your boots. But it is important to note that in the first rides, you will be a little less comfortable with it, but after a few rides, the boots will be more comfortable, which happens in most cases as the boots adapt to your feet.
Material and Durability – The best materials recommended for boots are thick leather and textiles because they offer the best level of protection available. While in my opinion, textiles are a better option than leather because it is more durable and will last for a long time knowing that textiles will cost more money, but leather would also be excellent. Just make sure it is waterproof.
Water Resistant – If you know you will wear boots during the winter, it's important to make sure the boots can withstand water while socks won't always help, so make sure your boots are rain and water-resistant.
Weight – It is important to make sure that the weight of the boots is not too heavy on your feet because it will be very uncomfortable to carry the boots off your feet, especially when you ride for a few hours and in extreme cases, heavy boots can injure your legs. So, make sure that the boots you buy are light in weight; the heavyweight is considered to be over 2.5 pounds (1.134 KG).
Recommended boots
Fly Maverick Racing – The Fly Maverick Racing is neither the best nor the most advanced boots in the market, but it certainly gives amazing simple value for its so low price while I also think you shouldn't spend tons of money on boots. So, Fly Maverick Racing is a great option for those that want very cheap quality boots even though they provide excellent comfort, a layer of plastic strip protection, and a leather protector that perfectly protects the ankle.
Power Gear Motorsports – The truth is that these boots are not the most amazing in terms of durability, while most likely, they will last you for at least a year, but the most important thing about them is that they are very flexible and comfortable and they do not cost crazy. Looking for temporary boots that will give you enough value? Then the Power Gear Motorsports is definitely a great choice for you.
Fox Racing Comp 5– These Boots are by far the most popular in the market and are manufactured by the best companies while they are a bit more expensive than the other boots I have recommended and they also provide better quality. So, if you want to get a little more upscale, then The Fox Racing Comp 5 is great for you and you can buy them at Amazon.
3. ATV Riding suit (Pants and Long shirt)
I am not surprised to hear that there are still people who think they can just ride with a Guinness and a long shirt and think it is enough. No, it is not. You will have to buy a custom ATV riding suit because the riding suit has some roles that Guinness or any long shirt cannot give you, such as good comfort, visibility, and better protection for your skin from falls.
In my opinion, riding suit is quite a must-have, especially for those who regularly ride in the territories for long hours because it is really uncomfortable to ride without a riding suit.
The rules of a riding suit are divided into pants and a long shirt
Pants
The whole purpose of riding pants is to protect you, provide you with comfort while riding, and of course, make you look more beautiful while wearing and make you look like a true rider. While most ATV pants are made of textiles or leather or even rubber cloth, you also need to make sure the pants can warm you up in a way, good in winter and water-resistant. Even most riding pants offer a removable layer in case of hot time in summer which is great.
Long shirt
A long shirt is a necessity to provide you with ventilation comfort and durability as well as trousers while making sure you have the same materials as your pants.
Here are all things to consider when buying a riding suit (pants and long shirt)
Design – The main reason why I love riding suits is that they make you so much cooler and look like a real rider, while some prefer to buy one suit tailored to the design and shape of the pants and shirt together, some prefer to buy a shirt and pants separately, so it is important that you love your riding suit so that you will also want to wear it.
Material – Riding suits are made of a variety of materials such as leather, textile or rubber, and the truth is that no material is better than the other, especially depending on what you like and connect with more. While some have a much more comfortable ride with a rubber fabric suit, some have it much more fun and comfortable to wear a leather suit, so it all depends on what you like the most.
Durability – A very important factor before choosing a suit is the durability of the suit itself against water or snow and even heat. While you may be surprised, there are loads of suits in the market that just aren't that good against the weather, so it's important to make sure the specific suit you want to buy is weatherproof, and in general, has extreme weather resistance.
Match – It is important for you to note that both the pants and the shirt of your suit should be the size of your regular clothes, the suit will be a little tight on you and it will look like it will expand and be more appropriate for your body size.
Recommended suits
Leather One-Piece Suit: Alpinestars Challenger II – I chose to recommend you only one suit that I think is the best in the market. Its built-in very comfortable leather offers a cooling and ventilation system, and in general, it offers everything you should expect from a quality riding suit while it is important to note that although this suit designed for motorcycle riding, it still doesn't stop this suit from being perfect for ATV riders.
For some reasons, many people skip wearing gloves because they do not understand the importance of it.
In fact, gloves have 3 main roles…
It Keeps Your Hands during Crash – The first instinct people have during a crash is to fall on the hands to avoid landing with the head, and because falling on the hand protect the important parts of the body. Gloves are very important to protect your hand from hard surfaces or stones that can scratch the skin of your hands which can be very painful, so the job of the gloves here is to protect your hand when crashing.
It Avoids Pain and Injuries While Holding the Handlebar – If you refuse to wear riding gloves, be ready to suffer from pain in the hands, injuries and blisters because of the intercept of handlebars when riding which can be very painful, so using the gloves here will avoid the pain you will experience while holding the handlebars.
It Provides Stability – This may surprise you but gloves certainly provide you with very good stability when riding and improve your grip on the handlebars. It also prevents sweat in your hands compared to riding without gloves where after a while, your hands will start to sweat, which will cause your palms to slip from the handlebars, which is very annoying.
How to choose gloves?
Material – Exactly like a suit or boots. The best materials for gloves are leather and textile, while both of these materials are the best and most comfortable when it comes to gloves.
Ventilation Developers – If you don't want to suffer from sweat, it is always good to have some vent holes in your gloves while it is important to pay attention to this because most gloves do not come with ventilation openings.
In addition, it is important to note that you can use all types of gloves for ATV riding, whether motorcycle gloves, gloves for dirt bikes or any other gloves, it doesn't matter. Everyone can fit.
Recommended Gloves
Tour Master Cold Tex 3.0 – The Tour Master Cold Tex 3.0 is by far my favorite riding gloves and is made of textile material. It is excellent for winter while also perfectly resistant to cold and, of course, provide excellent protection for the palms. I highly recommend it.
Rocket Burner Joe Rocket Heater – This glove is by far one of the best technology gloves in the market and offers a battery-powered heating system that is amazing for those that hate colds hands.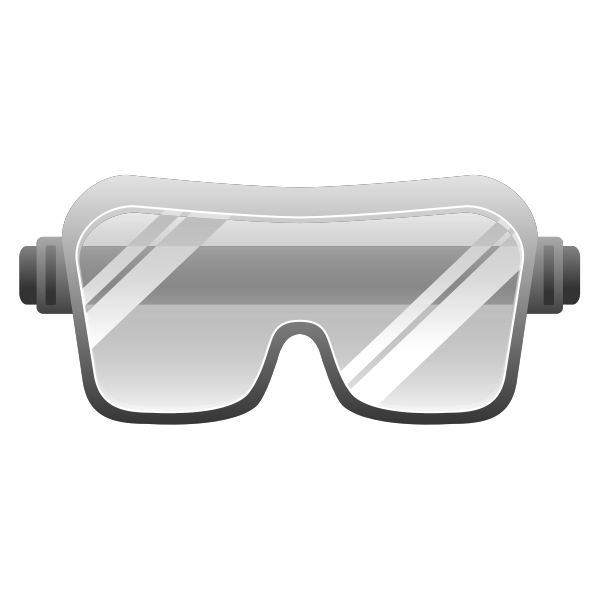 The truth about goggles is that it is not something that is really mandatory for riding because generally, nothing will happen to you if you have an accident without wearing goggles, but there are definitely many riders who cannot ride without it. 
The main purpose of goggles is to protect your eyes from dirt, dust, sand, or even stones that fly when riding, which is very common especially when riding in winter and can be very annoying. So, I recommend you buy goggles only if the flying dirt prevents you from seeing the terrain well during riding.
In addition, goggles will protect you from wind or sun that can block your vision when riding, so this is another benefit of wearing goggles.
How to choose protective goggles?
Material – Most of the goggles' lenses were made of very durable hard plastic, but it doesn't matter what the material is and whatever suits most, just make sure you like the strap and they are comfortable for you, and of course, the lenses were right for you.
Ventilation Developers – In fact, ventilation in goggles is the most important thing to me. The whole purpose of the ventilator in goggles is to make sure there is a change of air that prevents mist from sticking into the glasses which can obscure the lenses and can hide and obstruct you from seeing the track. Without ventilator, you will need to constantly wipe the lenses which is very annoying, and this is why ventilation is so important.
Weight – It is important to make sure that the glasses are not very heavy because one of the most annoying things is if the glasses are heavy, which can make you give up using the glasses.
Recommended Goggles  
Goggles Anti Fog UV – The best goggles in the market is undoubtedly the Dmeixs DX527-GOG made of polycarbonate material which is very tough, strong and resists scratches and falls. It is very comfortable with rain, protects sun and has all the effects. You should have it and is undoubtedly the best in the market, so I highly recommend it.
Oakley O-Frame MX 01-615 – I would recommend these goggles more for racing riders that need serious goggles because these goggles offer very wide lenses. It gives the rider the ultimate range of vision while precisely giving this vision as it is without other colors, which is very important while racing. Of course, it also offers a ventilation system which makes riding very comfortable while I personally recommend it only for ATV racers and less for beginner riders who only ride for fun because they cost a bit more than the other goggles I recommend.
Global Vision Eyewear Big Ben – These goggles are the strongest goggles I have personally seen and their lenses are made of polycarbonate crushing. They are hard to scratch, and the most surprising is that they are in most cases able to block any harm that is on the way. They are also very comfortable and can be adjusted to your head while also very beautiful in designs, and this especially is what made me love the Global Vision Eyewear Big Ben.
6. Body armor
Not everyone will have to buy body armor especially those who ride on light surfaces that are less dangerous or those who work in service jobs, but for those that ride on more dangerous surfaces like curly trails, mountains, mud or high dunes on fast speed, they would have to wear body armor. The role of body armor is to protect all the important organs of your body, especially those in the upper part of your body, while in cases when you fall on your back, the body armor will protect your backbone from breaking.
But unfortunately, body armor can be relatively heavy enough in some cases because it put extra weight on your body and it can also be very hot, so it's important to make sure there are ventilation or cooling systems that will prevent the heat and itch that can happen while wearing it.
How to choose a chest protector/body armor?
Level of Defense – When I'm talking about the level of protection of the body armor, I mean by how much the body armor protects the body part, while it is important to know that not all body armor provides protection for all upper parts of the body. Some only provide protection for the shoulder, some for partial elbow protection, and some only for full-back, so it all varies. However, it's important to make sure your body armor has the maximum level of protection and that it provides complete protection for every upper part of your body without compromising your safety.
Material – It is super important to make sure that the body armor is made of high quality and inexpensive material that will provide good protection while the best materials for body armor are hard plastics, carbon, or various iron materials, so any other material is not recommended.
Weight – Try to make sure that the weight of the body armor is as light as possible, but unfortunately, most of the high-quality body armor are not light in weight because they have more to put down on protection and their material is also of high quality which would make them heavier, but it is always important to look at the weight anyway.
Ventilation development – Some companies don't worry about putting ventilation in the body armor they produce which makes the body armor to be very hot, so you have to make sure the body armor has at least some ventilation while there are even some body armors that offer cooling, which is amazing.
Price – I do not recommend you buy cheap body armor because most of the body armor under $50 is not going to last you for a long time and are much less high quality, so I recommend you invest and buy only quality body armor.
Recommended Chest protectors/Body armor
Leatt 4.5 Chest Protector – This body armor is, in my opinion, the best and most affordable body armor for your money because it will surely last for at least 10 years, if not longer, due to the very high-quality materials it is made of. It covers all parts of the upper body which means it provides perfect protection and it is important to note that it is a little expensive, but even with it being expensive, it would pay off for you because most of other armor protectors were not as high quality as it is and they last for a year which means you have to replace them every year. Comparing it with other body armors, you will see that in the long run, it is worth investing in Leatt 4.5 Chest Protector, and I encourage you to buy it at Amazon. 
Leatt 5.5 – If you want to get a very high-quality chest protector, then the Leatt 5.5 is the best choice for you because it is considered to be the safest on the market. It is built properly, protects all organs, and is considered safer, which is what the Leatt 4.5 Chest Protector is. It is very expensive and I would less recommend it because the Leatt 4.5 still gives a good defense and does not need more mess. However, if you are really riding very dangerously, you may get the Leatt 5.5, which will cost a lot more.
7. Neck Protector
Generally, most people do not buy Neck Protector because they do not understand the importance of it. Neck protector is meant to protect your neck and prevent dangerous eruptions and movements that can happen to your neck while riding.
In addition, in cases where you fall on your head, your neck could warp in a very dangerous way, so Neck Protector here can protect your head from crashing.
I know Neck Protector looks like a pretty little equipment and not the most important thing, but who knows what kind of accident will happen to you while riding, so it is always good to wear a Neck Protector too, to make sure that your neck is safe from dangers.
How to choose a Neck Protector?
Neck Restriction – The biggest downside to wearing Neck Protector is that it restricts the neck movement and this varies between Neck Protectors because some Neck Protectors limit the neck movement much more while some limit it less. So, it is important to make sure the Neck Protector does not restrict your neck movement as much as possible.
Customizable – I don't know why, but there are a lot of Neck Protectors in the market that just can't be customized which can be very daunting and uncomfortable because there are chances that you won't be comfortable with an uncustomized Neck Protector. So, buy only a Neck Protector that is customizable so that you can adjust them to your neck size to get a perfect fit.
Light Weight – It is important to make sure that the Neck Protector is light in weight as much as possible because if you wear a heavy Neck Protector, it will start producing heat after a few minutes which will be very comfortable to you.
Recommended Neck Protector
Race Collar Evs R2 Black OS – This Neck Protector is, in my opinion, the best in the market for its price. It offers excellent neck protection, most importantly, light in weight and comfortable. It is designed for riders who ride on ATV for fun and also provides everything needed at a very low price.
Leatt DBX 6.5 Carbon – The Leatt DBX 6.5 Carbon is one of the best Neck Protector in the market. It offers crazy neck protection and is made from very high-quality materials plus the MaxiWeave Carbon matrix technology that does amazing work. The most amazing thing about it is that it has a very light weight of only 1.32 pounds (0.5 kg) which ensures you not to feel it at all while riding plus it is customized to over 10 degrees which also ensures a perfect fit. It is made from carbon fiber which means you won't sweat with it or experience distressing scrapes, and in my opinion, most people won't buy it because it is very expensive. So, I would recommend it for only racers or those that do dangerous stunts and rides that want a quality Neck Protector.
Atlas Prodigy Brace Youth Kid Neck Brace – This Neck Protector is designed for children or boys mainly because of the size of its cushion that fits perfectly for children and boys. It offers excellent comfort protection for long rides and excellent padding with a light weight of about 2.8 pounds (1.3 kg) and I would only recommend it for kids or boys because it is also sold pretty cheap.
8. Hearing Protector
Hearing protector may not be something you need at first, especially when you're a beginner that rides at relatively slow speeds, but when you're riding for over a few months or when you're already riding at high speeds, you'll see how disturbing and annoying all the noise caused into your ears by wind can be, which can even hurt your hearing in extreme cases. I am not kidding, yes, riding at very high speeds can certainly hurt your hearing.
So, the solution to reduce the noise caused by wind while riding is to buy earplugs and it can be the cheapest earplugs sold in the market.
In addition, helmet does not prevent the winds from interfering with your ear and it will not in any way protect your hearing, so it is important that you buy earplugs.
9. Elbow guards
Elbow guards are very important and their purpose is to prevent your elbows and hands from injuries, because in most cases during an accident, the rider will put his hands on to protect himself and minimize the fall.
In addition, Elbow guards should be kept on your hands to prevent common injuries that may happen while riding. For example, if you land on the hand, it does not mean your elbows will not hurt while elbow guards also restrict the movement of your elbows, which prevents injury or bone breakage.
I personally would not advise you to spend tons of money on elbow guards, even though it is necessary to have. I recommend spending $50 to $100 on elbow guards.
In addition, it is important to know that bicycle elbow guards will not suffice in cases of ATV accidents because ATV accidents are much more fatal than bicycle accidents. Therefore, you need more serious and high-quality elbow guards than bicycle ones.
How to choose elbow guards?
Strong straps– The most important thing you have to look at when buying elbow guard is to make sure the straps are strong enough, durable and not slippery so that when you fell off the ATV on the elbows, the layer of elbow pads are on your elbows to protect you, not in another place. So, it is important to also make sure that the elbows guards can be customized so that if the elbow guards slip, you can tighten them.
Material Type and Toughness – Most of the elbow guards today have either a soft shell or a hard shell, while the difference between them is that the hard shell is tougher and more tightly protects the elbows and hand, but is less comfortable and heavier on the hand. The soft shell elbow guards, however, also provide good protection for the elbows and the hand but not like the hard shell ones, while light in weight, more flexible and more comfortable. So, the two types are both excellent; you are to simply choose what is more important to you.
Moving ability – Most people do not have to wear elbow guards because they limit hand movement which is especially annoying for ATV riders who always have to make aggressive movements with their hands. So, I recommend you buy only protective guards that offer customization because, if not, it is not comfortable at all to wear them.
Recommended Elbow guards
Fox racing pro elbow guards – These elbow guards are the best you can find for its money and they provide amazing value while also providing a tough shell made of hard plastic and excellent airflow. I personally was very surprised to see the comfort it provides despite its hard shell and the better thing it does. It is available in 3 sizes – large / Small / Medium, so you can choose the most perfect size for you while small is for kids, medium is for boys and large is for adults.
Troy Lee Designs Eg 5550 Adult Elbow – This elbow guard will only fit older riders while offering excellent protection and made of rugged woven aramid material to resist scratches. It is very flexible and its shell is even very lightweight, which means it is light in weight, more comfortable and also provides excellent ventilation systems. It is excellent for an adult respirator, so it is for adults only and not for boys or children.
Alpinestars Vapor Elbow Guard – These shield guards are another great option while providing very stiff protection and are also very light in weight, and most importantly, they do not slip when riding, very comfortable and provide excellent ventilation to avoid sweating. So, Alpinestars Vapor Elbow Guard is another option for those that didn't like the two guards I previously recommend.
10. Knee guards
Knee injuries are undoubtedly one of the most common injuries in the ATV industry while it doesn't mean that you must fall before you have a knee injury. The goal of the knee guard is to protect your knee during accidents and to keep your knees from making too sharp movements that can damage your knees, which is very common when riding an ATV because people use a lot of the power from the legs.
How to choose knee guards?
Lightweight – Just like elbow guards, you need to make sure your knee guards have a light weight, and for lightweight knee guards, you can only get it from the leading companies because they are experts in making knee guards with high-quality materials such as carbon or hard plastic, and at the same time, it is still lightweight. So, if you want lightweight knee guards, make sure it is only from a reliable company that can produce knee guards from quality materials and without being heavy.
Convenience – It's obviously important to make sure the knee guards are comfortable for you, and of course, customizable just like the elbow guards, because uncustomized knee guards are difficult to ride with, so it's important to make sure the knee guards you buy are customizable.
The quality of the straps – Make sure that the straps that close the knee guards on your knee are made of high-quality squeegee and non-stick material that will tightly close the knee guards. Also, make sure the straps have padding so that the straps will not bother you and not cause it to scratch when riding.
Recommended Knee guards
Fox Racing Titan Pro – This Knee Guard is the most popular and is considered to be the best soft guard in the market while including everything a knee guard should have and is made from a hard plastic material. And the Pos-Lock Buckle Cave, which has a perfect fit for your knee straps, guarantees a perfect fit and believe me, it has been tested on tons of people, and in 99 percent of the cases, everyone gave a positive review, so I think the Fox Racing Titan Pro is the best knee guard you can get for a cheap price.
Leatt Dual Axis Knee / Shin Guard – These knee guards are a bit more expensive and offer very strong knee protection and what I like most about it is that it gives a natural movement to the knee which offers comfortability and also has a very lightweight of just 850 grams (pounds 1.9) which makes the rider feel as if it didn't exist on the knee. These knee guards have also received countless positive reviews and won a lot of credentials and titles, so be ready to spend a little more money if The Leatt Dual Axis Knee/Shin Guard is the perfect choice for you.
Fox Racing Titan Race Knee / Shin Guard – This is another excellent FOX knee guard that is considered significantly cheaper than the previous type I recommended. It also provides excellent knee protection while offering excellent value.
How much does safety equipment costs?
High-quality safety equipment will cost you at least $400 to $1,500 and if you spent less than $400 on safety equipment, there are chances that the safety equipment you bought is not of the highest quality and is significantly less good, so spend at least over $400 on safety equipment and do not compromise here. It is even better to save and lower the budget of your ATV for your safety gear.
It is also important to note that not all safety equipment is a must-have.
Here are safety equipment that must be purchased:
Helmet
Boots
Riding suit (pants and long shirt)
Body armor/chest protector
Knee guards
Elbow guards
Safety equipment that is not a must to buy:
Gloves
Protective glasses
Hearing protector
Neck protector
In general, here are the final payment you will need to spend on each of the required safety equipment:
Boots – Good boots cost between $150 and $200
Helmet – A quality helmet cost between $150 and $200
Riding Suit – A good riding suit cost between $50 and $200
Gloves – Quality gloves cost between $25 and $100.
Knee guards – Good knee guards cost between $30 and $150
Elbow guards – Good elbow guards cost between $30 and $150
Body Armor – A quality body armor cost between $50 and $200
Goggles – Quality goggles cost between $20 and $80
A good neck protector cost between $20 and $100
A good hearing protector (earplugs) cost between $5 and $20.
In addition, it is important to note that you can also buy used protective gear but not a helmet because there are chances that a used helmet will be less good and less durable. There is also a probability that the person who owns it has fallen with it, which means it is less protective and less effective. Therefore, buy a new helmet at least in the range of $150 to $200.
For any questions, you may have or opinion on the article, feel free to write us a comment, and we will get back to you within 24 hours.
Thanks for reading, until the next post.