If you've ever received a quote for snow plowing your driveway, you'll know how expensive it can be. Not only can you save money by doing it with an ATV, it's also very enjoyable. I get the same type of satisfaction out of it as painting, with the added thrill of riding my quad.
The best ATV for snow plowing is the Sportsman 570 Utility HD LE. It has a dry weight of 753 lb and a 567cc engine for moving snow easily. A winch and plow mount come standard, making it the most prepared ATV for snow plowing. It has Electronic Power Steering and reverse for maneuverability.
The electronic fuel injection system in this model ensures you won't have any hassles starting up in freezing conditions. It's also pre-wired for hand and thumb warmers so you can spend as much time out there as you need.
We'll look at more detailed specs later in the article. But first, let's talk about another ATV that's very capable of plowing snow.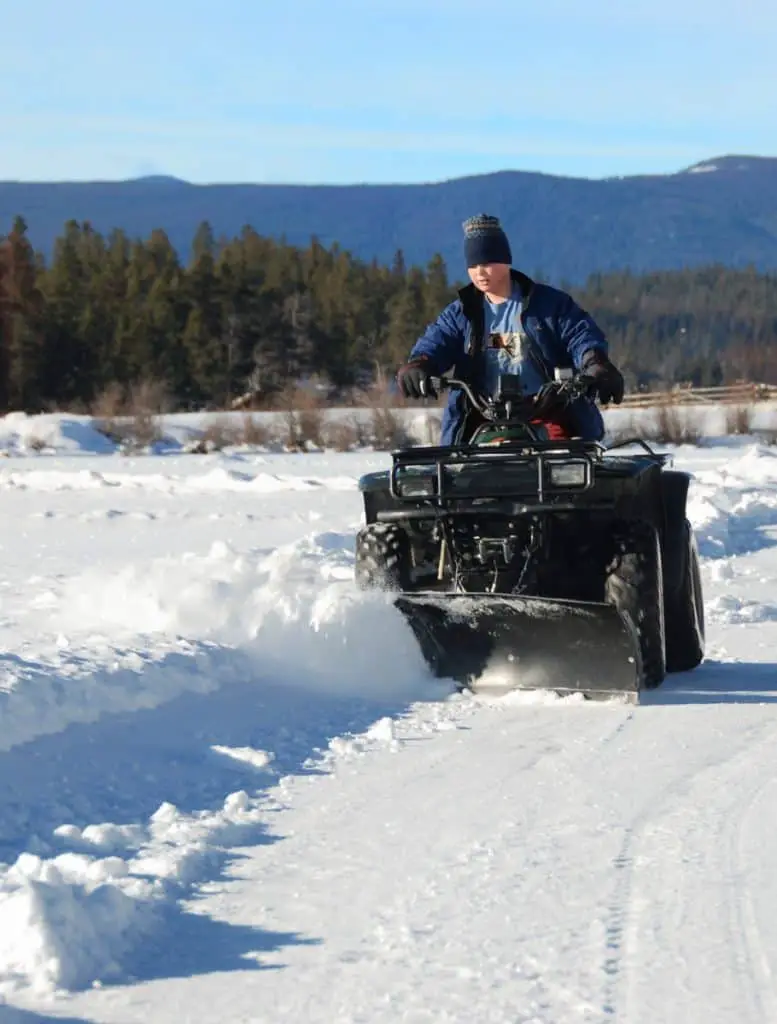 Another Good ATV For Snow Plowing
The Honda FourTrax Foreman ES EPS is also very capable of plowing snow because the 518cc engine is powerful enough to handle the snow and the ATV's weight is heavy enough to keep you steady on the ground. Honda made the FourTrax Foreman for heavy pulling and pushing work, for that reason, it will last longer than trail ATVs.
Unfortunately, the FourTrax does not come with a winch or plow mount, so you'll have to install those at your own cost before buying the winch and plow. However, it's still the second best ATV for plowing snow because of all the features it has that facilitate plowing.
Let's have a look at what other features make the Sportsman and Fourtrax great for plowing snow.
ATV Features Beneficial For Plowing Snow:
Here are a few of the key features that make an ATV good for plowing snow. These features are all standard in the Polaris Sportsman and the Honda FourTrax.
Electric Power Steering
This is a feature that's going to make the entire job a lot less effort and much more enjoyable. The snow will cause plenty of resistance making it difficult to turn without power steering.
Electric Reverse Gear
This is another feature that makes the job easier, as you'll need to switch to reverse whenever you reach the end of the plow line.
Lockable Differentials
This gives you the ability to increase your traction on demand, perfect for ice covered ground.
High Traction Tires
These ATVs are equipped with tires that have the right type of tread to dig deep into the snow to push through it. High-traction compounds are used in the rubber for maximum grip.
The Sportsman 570 Utility has 25" tires with a 6-ply construction making them extremely durable for freezing work.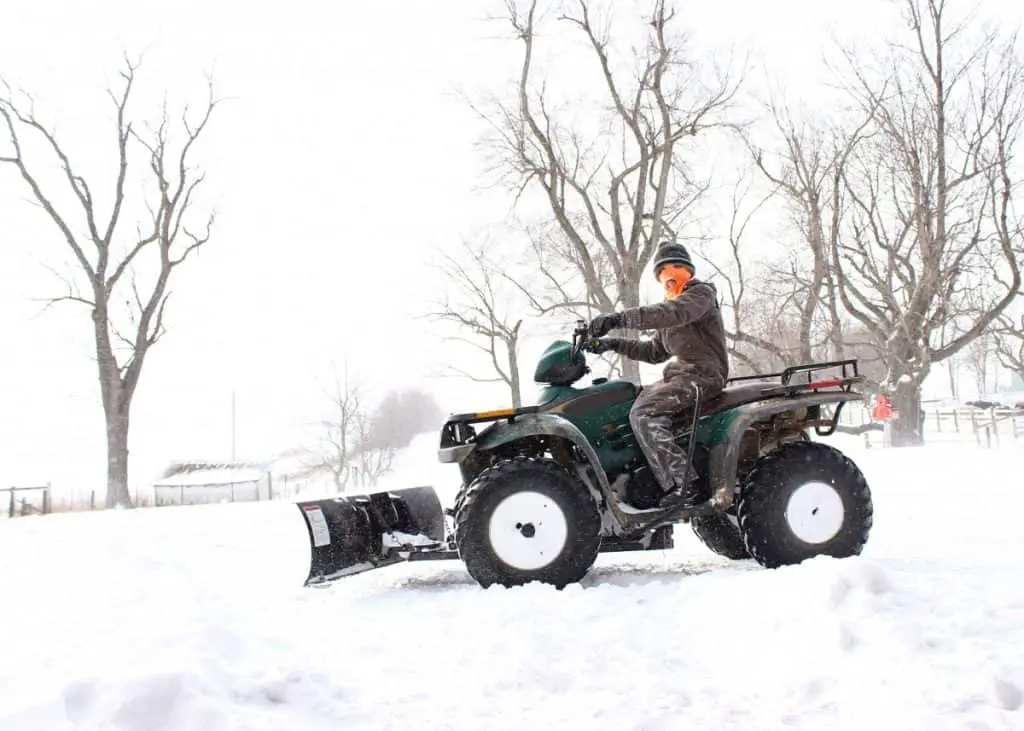 Fuel Injection
If you're clearing snow, you probably start up your ATV in cold conditions. Fuel injection makes starting the engine effortless, even in freezing conditions.
Low To Mid Range Engine Optimization
The engines in these ATV weren't built for high speeds, they were built for low to medium range power, exactly what you need for plowing anything, including snow.
Factory Fitted Plow Mount
Having an ATV like the Sportsman 570 with a factory fitted plow mount makes things much easier for when you buy the plow. Attaching and detaching the mount is also easier on both of our recommendations.
Lighting
Lighting on your vehicle makes plowing snow safer. Of course, the lights make it easier for pedestrians and other vehicles to see you. These ATVs have headlights and taillights as you'd expect from this price range.
4WD
As you can imagine, a four-wheel-drive ATV gets you through snow as easily as it does mud. The best ATVs are 4WD for max power and traction.
High Towing Capacity
Since manufacturers don't specify how much you can push, we look at the towing capacity as an indication because it's very similar in nature. With a high towing capacity, 1350 lb on the Sportsman and 848 lb on the FourTrax, you'll be moving snow in no time.
What Size ATV Is Good For Snow Plowing?
An ATV with a 400cc size engine and a dry weight of 500 lb or more is good for snow plowing. The weight being the most important aspect because you need to push down onto the road for traction on the snow.
The ATV width should be around 45 inches or more to move a sizable amount of snow. An ATV of this size will handle heavy snow without straining the motor.
Having said that, smaller ATVs can also plow snow, just not a lot at a time. Smaller ATVs are usually a bit too light for pushing snow but you could weigh it down with a sandbag at the bag to counter that problem. Just don't exceed your loading capacity.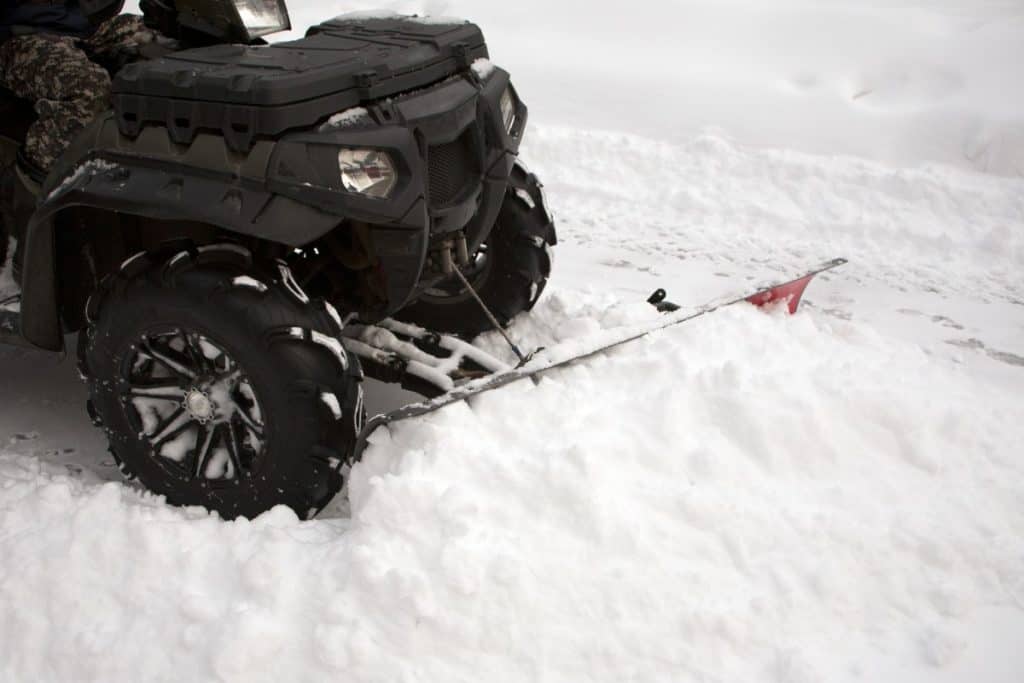 Here's how our two recommendations size up against each other:
Polaris Sportsman 570 Utility HD LE
The Sportsman 570 is 705 lb, far over the required amount to plow snow. The engine is 567cc, you don't need more than that unless you are clearing many acres of snow. It's 48 inches wide and 83 inches long.
Honda FourTrax Foreman ES EPS
The Foreman is 630 lb, making it easy to handle on snow and ice as it pushes down onto the ground. The size of the engine is 518cc which is very capable of snow plowing.The width is 47.4 inches allowing you to attach some very effective plows. Its length is 82.8 inches.
Here's a table of specifications to recap:
| | Sportsman 570 Utility HD LE | FourTrax Foreman ES EPS |
| --- | --- | --- |
| Displacement | 567cc | 518cc |
| Weight | 705 lb | 630 lb |
| Width | 48 inches | 47.4 inches |
| Length | 83 inches | 82.8 inches |
Best ATV Snow Plow
The best snow plow for the Sportsman ATV is the Glacier Probecause it's made from durable metal and it can move a lot of snow at once, as long as you have an ATV of 400cc weighing around 500 lb to handle it. This snow plow clips straight into the Sportsman 570 plow mount but you'll have to install a plow mount on the FourTrax.
This plow features shock absorbers for any impacts with the ground, rocks, or tree stumps. It's extremely easy to control from the handlebars of the ATV.
We have chosen it as the best snow plow because it's very easy to use and does everything you need it to do with the durability to last you many years.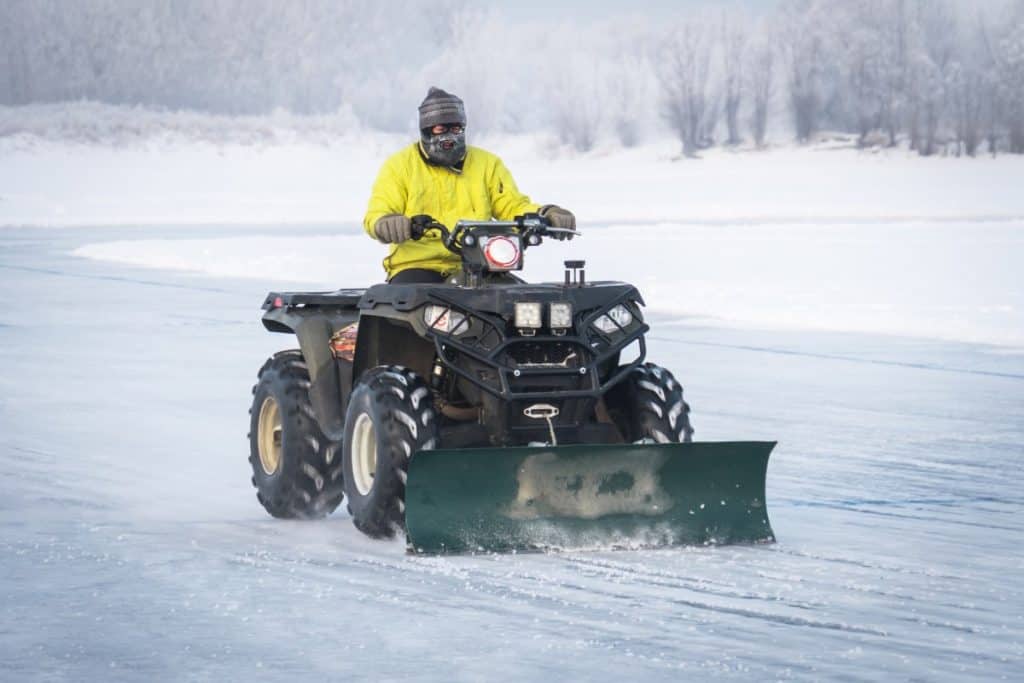 Best Snow Plow For FourTrax ATV
The Warn Pro Vantage is the best winch and plow system for the FourTrax ATV. It's made specifically for the FourTrax, making it straightforward to install, detach and attach in seconds.
ATV Snow Plowing Tips
If you're using a slightly smaller ATV, under 500 lb, you can add some weight to the back to get some extra traction. Adding weight will help if you find yourself spinning a lot. (Check your manual for max load capacities)
Tires with an aggressive V shape tread will perform best in the snow.
Use a plow that is only slightly wider than your ATV.
Deal with very large amounts of snow bit by bit.
Should You Use Tire Studs For Snow Plowing?
If your ATV tires are spinning on the snow, tire studs will add traction to get you through it. Tire studs are a great alternative to wrapping chains around your tires. The studs won't cause as much wear and tear on your tires.
However, if you're in extremely snowy conditions, chains might be your only option. Having said that, if you opt for one of the ATVs we recommend, you won't need studs or chains for the most part because the tread is so aggressive on these models.
Conclusion
There are a lot of ATVs that can plow snow well, but the fact that the Sportsman 570 performs so well at low speeds and already has a winch and plow mount, makes it the best ATV for plowing snow. As mentioned, the FourTrax Foreman is also a great choice of ATV for plowing snow, but it's slightly smaller and doesn't come pre-installed with mounting brackets.
Besides that, both these ATVs have what it takes to clear snow effectively. Honda and Polaris are both very reputable brands with excellent customer support and parts availability. These brands offer an extensive amount of winter accessories for your ATV ideal for snow plowing.