Honda is a well-known brand for making a range of different vehicles, and they also make ATVs. There are many different ATV brands to choose from, so it's important to be selective and know a bit more about each company. Today, I will explain whether Honda ATVs are good based on a range of specific metrics.
In general, Honda ATVs are good. Based on factors compared to other ATV brands such as the length of the warranty, the model selection, how reliable they (based on a comprehensive survey), and the size and revenue of the company, is one of the best ATV brands.
In this article, I will show the different metrics I used to arrive at what ATV brand is the best, to show how Honda compares to the other ATV brands. I'll also explain where Honda ATVs are made.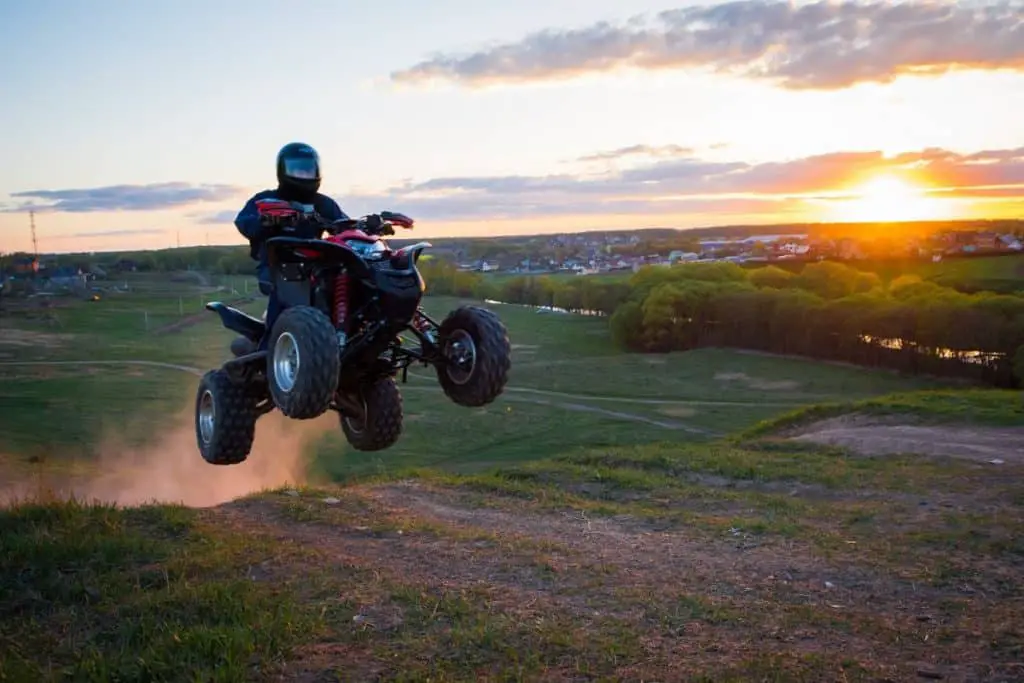 Is Honda the Best ATV Brand
There are a few well-known ATV brands. Each of them also sells a range of different ATV models. It can be hard to know which is the best brand overall without looking into some finer details about each company, based on my extensive research here's whether Honda is the best ATV brand.
In general, Honda is the best ATV brand. This is based on the total rating of Honda compared to other ATV brands for how reliable Honda ATVs are (based on a large independent survey), the model selection, the length of the warranty they provide, and the revenue of the company. 
I compared the most well-known ATV brands: Honda, Yamaha, Kawasaki, Am-Cam, Suzuki, and Polaris to see which was the best. The metrics I looked at are:
How reliable they are
How many models they sell
The length of the warranty
How much yearly revenue they earn
How many employees they have (customer service factor)
I have each brand a ranking from best to worst for each of these factors and here are the results in a table form:
| Brand | Warranty length* | Number of ATV Models | Reliability Score | Number of Employees | Yearly Revenue ($USD) | Total |
| --- | --- | --- | --- | --- | --- | --- |
| Honda | 4 | 4 | 6 | 6 | 6 | 26 |
| Suzuki | 2 | 6 | 2 | 5 | 5 | 20 |
| Yamaha | 6 | 5 | 5 | 3 | 1 | 20 |
| Kawasaki | 2 | 4 | 1 | 4 | 4 | 15 |
| Can-am | 5 | 1 | 4 | 1 | 2 | 13 |
| Polaris | 1 | 1 | 3 | 2 | 3 | 10 |
To get a total I gave each brand a score out of 6. The number one brand was given a 6, and the brand that was last was given a 1. From the table, you can see that Honda had the highest score with a total of 26.
In my opinion, each of the different categories has a different weight. For example, it's not really accurate to say that if a company has more employees it's better than a company that was voted as being more reliable. But, in general, this gives a very clear picture of which ATV company is the best.
Now, let's look specifically at each of the different factors and how it was calculated.
ATV reliability – how soon they break down or need replacement parts
In my opinion, this is one of the most important metrics to evaluate an ATV brand on. The reason is that this ultimately affects the total price of an ATV. There's the old saying 'you get what you pay for'. But, across the board ATVs are around the same price. So, how much extra money you need to spend on them to repair them is a big factor.
It also saves a lot of time because you don't need to take it to a mechanic, or do the repair yourself. Here's a look at a survey that had over 550 people respond to the question 'Which ATV brand is the most reliable?', I've ranked them in order from the most votes to the least amount of votes.
| Brand | Votes | Percentage of Votes |
| --- | --- | --- |
| Honda | 298 | 50.00% |
| Yamaha | 143 | 23.99% |
| Polaris | 55 | 9.23% |
| Can-Am | 47 | 7.89% |
| Suzuki | 31 | 5.20% |
| Kawasaki | 22 | 3.69% |
The original poll can be found on Reddit
here
.
The results of the survey show that 1 in 2 people voted that Honda is the most reliable ATV brand. And the next closest, which came in at 2nd place has half the number of votes. Honda was by far the clear winner in this regard. Now, onto the next metric which I would argue is also one of the most important, which is how long the warranty is.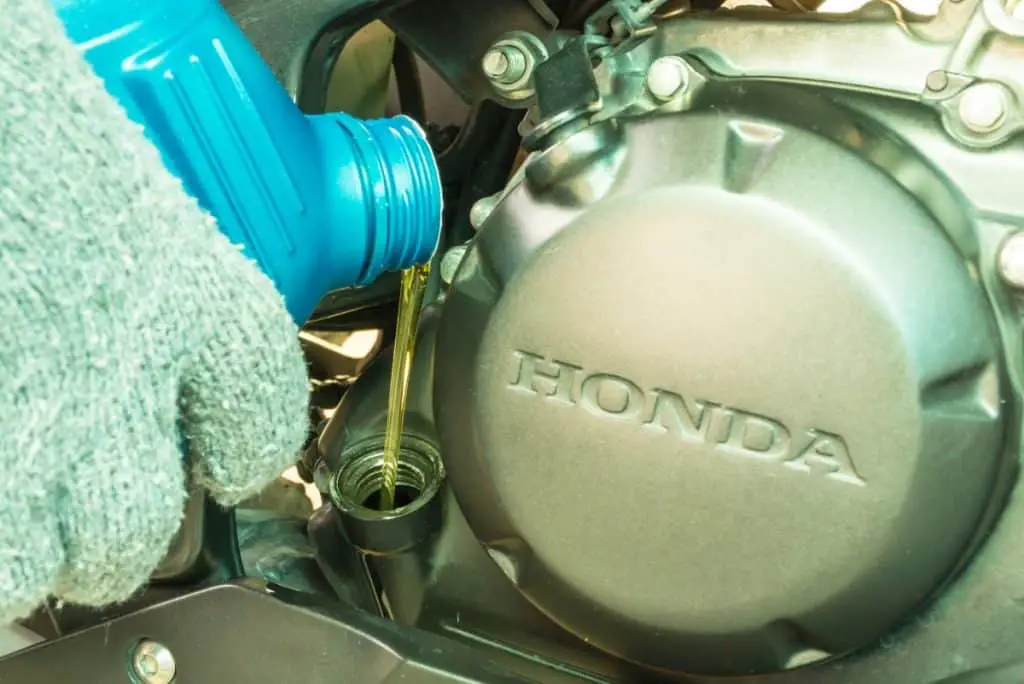 How long is the warranty that each ATV brand offers
There are various 'consumable' items on an ATV. These are oil filters, tires, oil, transmission fluid, and for many ATVs the brake fluid. If you're interested in the what type of brakes ATVs use, refer to this article about ATV brakes where I explain in detail what brakes ATVs use and how they work.
But, apart from these consumable parts, ATV brands offer a mechanical warranty. Each covers unique components on the ATV and also has a different length of time that the initial warranty covers. On this metric Honda came in third place. Here's a table that shows how long each of the initial warranties is for each of the different ATV brands:
| Company | Warranty Length* |
| --- | --- |
| Yamaha | 10 years |
| Can-Am | 3.5 years |
| Honda | 1 to 5 years |
| Kawasaki | 1 year |
| Suzuki | 1 year |
| Polaris | 6 months |
As you can see Honda is rated third and could be considered 3rd equal to the two ATV brands below it. The warranty they offer on their ATVs is 1 to 5 years. The Honda warranty that comes with all ATV models is 1 year.
However, you can purchase an extended warranty for an additional 4 years to make a total of 5 years. If you have a mechanical fault with your Honda ATV and you need to get it repaired it will be covered by the warranty provided you get it repaired at a Honda Powersports Dealership.
The warranty does not apply to damage that occurs due to neglect. In case you're not aware virtually all ATV brands do not recommend driving an ATV in deep water and to be very careful when riding an ATV through water. I explained how deep an ATV can go in water in this article about riding an ATV through water. It also covers how to safely ride an ATV in water.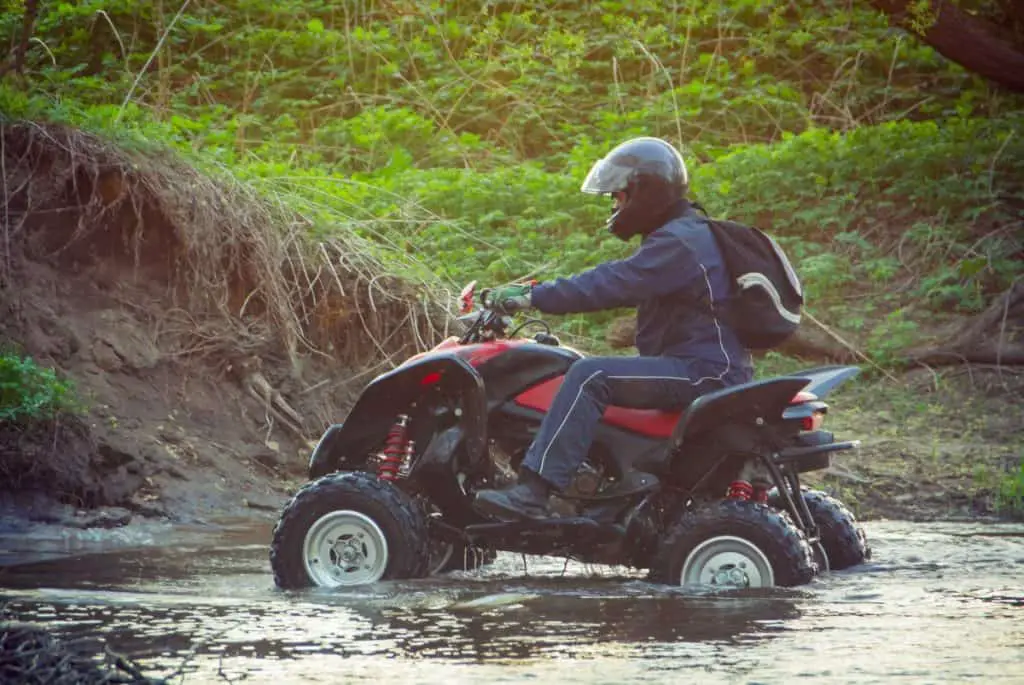 A nice feature of the Honda warranty is that it there is no mileage/hours of riding limit. For example, you could ride your Honda ATV all day every day and your Honda warranty would still be valid.
According to the official Honda website, the warranty covers everything except the tires and the battery. As well as, any accessories that come with it.
The bottom line is that it covers any mechanical failures for example if the clutch, drive train, or suspension breaks on its own. And not because you crashed it. Yamaha offers a much longer warranty of 10 years, which is much better. But, Yamaha states that the warranty does not cover the cost of labor to do the repair or replacement.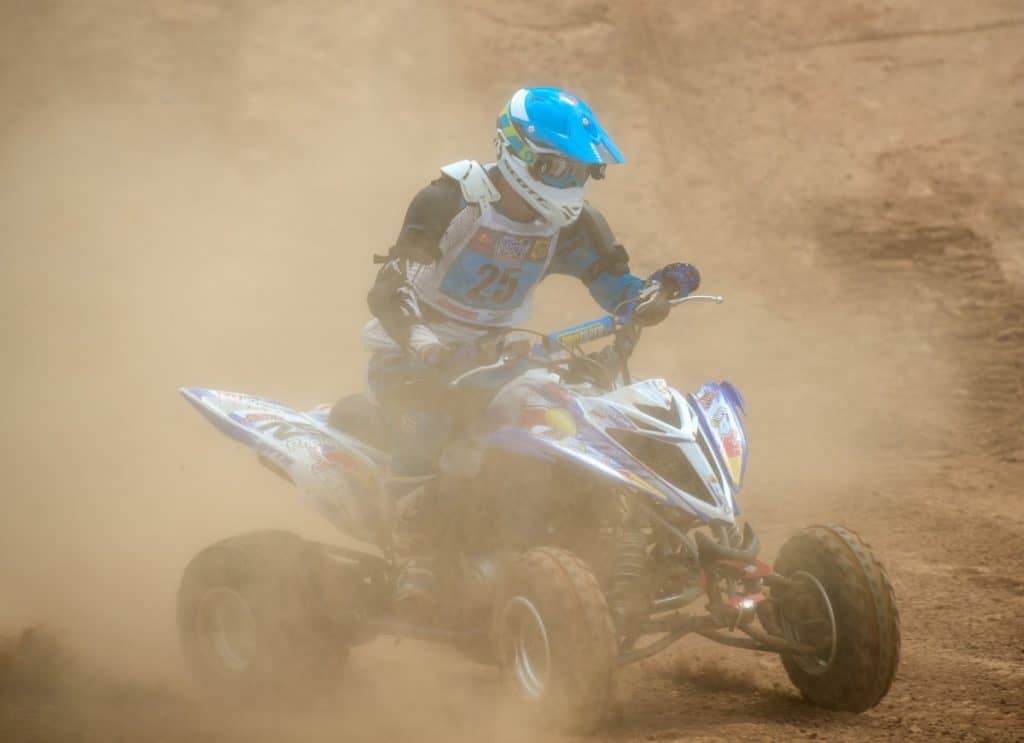 Where Are Honda ATVs Made
Honda is a Japanese word and is named after the founder whose last name was Honda. However, Honda is now an international company, so here's where Honda ATVs are made.
As a general rule, Honda ATVs are sold in the USA in Timmonsville, South Carolina, USA at the American Honda Motor Co., Inc manufacturing facility. Honda has many plants in the USA and internationally, but, some manufacture ATVs, whereas, others manufacture automobiles only.
In the USA the only plant that makes ATVs is the Timmonsville, South Carolina Facility. There are 12 Honda production facilities in the USA according to the official Honda website. The vast majority make cars only. But, about 3 make engines and components, one makes aircraft, and another makes generators, lawn-mowers, and similar motorized tools.
How to Decide What ATV Size You Need
Generally, a bigger ATV uses more fuel which ends up adding up over the life of an ATV. Therefore, you should get the smallest ATV you need. The size of an ATV determines also determines how much weight it can carry. Which is a deciding factor if you are going to use your ATV for hunting, plowing snow, or as a utility vehicle to haul a trailer.
I looked at the carrying capacity of each of the different sized ATVs and explained it in detail in this article about what size ATV you need for hunting. Here's a broad outline of how much weight you can load onto an ATV based on the size of the ATV. Note, that the weight is on top of how much you weigh.
| Size of the Motor (CC) | Max Weight (In addition to your body weight) |
| --- | --- |
| 400 to 500 | 288 lb (130 kg) |
| 700 | 333 lb (150 kg) |
| 850 | 378 lb (171 kg) |
As you can see each size up increases the carrying capacity by about 50 pounds (20 kg). There are various different ATV models for each brand. But, in general, they will be these three sizes or a little bit in between. For example, there is a Polaris Sportsman 500.
With Honda ATVs, they only have a few models, and instead of stating the engine size they just put the model name such as the Honda Rincon, and Honda Foreman. You need to look at the exact specs to see the engine size in CC. As an example, the Honda Foreman has a 500 CC engine.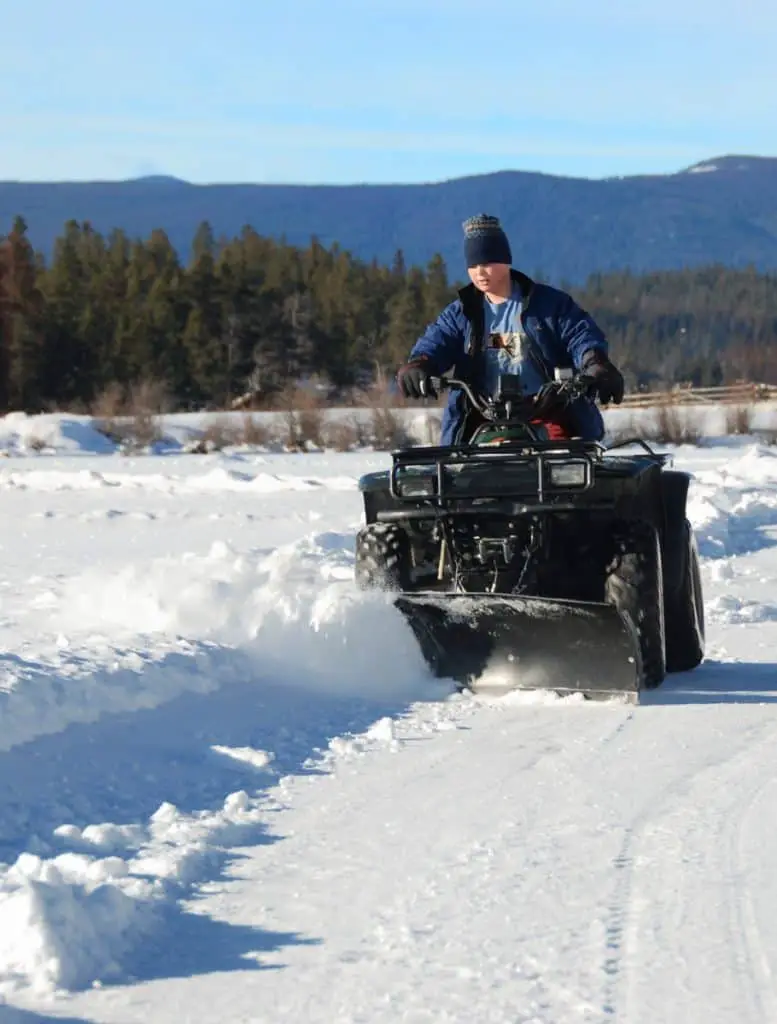 Who Is Better Honda or Polaris ATVs
Polaris and Honda are both well-known ATV brands, and the ATVs they sell look good and have similar performance. But, these are just two factors, and to know which is better overall takes a bit more investigation. Based on my research here's which is better: Honda or Polaris.
Overall, Honda ATVs are better than Polaris ATVs. Polaris and Honda have the same number of ATV models to choose from so in this respect, they are the same. But, based on every other factor such as how reliable they are, and the length of the warranty, Honda is superior.
In the research, I did where I looked at these different factors Polaris was in fact last place based on each of the different evaluation criteria I used. Therefore, Honda is not only a little bit better than Polaris as an ATV brand but A LOT better. Therefore, all things considered, Honda is a better choice for ATVs. However, Polaris still make competent ATVs, and there is nothing glaringly wrong with the ATVs they sell.
Which ATV Brand Is the Best
Many ATV brands also make other vehicles that have a reputation for being very good. But, others are only known for making ATVs, and other similar vehicles like UTVs. So, it can be hard to know which brand is the best and which ones leave a bit to be desired, here's what ATV brand is the best.
As a whole, Honda is the best ATV brand. Based on some metrics other ATV brands are better. For example, Yamaha ATVs have a much longer warranty of 10 years, compared to the 1 to 5 year warranty that Honda ATVs have. But, overall based on all of the factors explained below, Honda is the best.
The factors I looked at were:
Reliability
The number of models they sell
The length of the warranty
The company's yearly revenue
The number of employees the company has
Of these factors, Honda was the best for reliability, the yearly revenue of the company. But, ranked third best for the number of ATV models they sell, and the length of the warranty. Honda was the best based on each of these categories. To see the full table that shows how Honda ranks based on each of these metrics refer to the table at the top of this article.